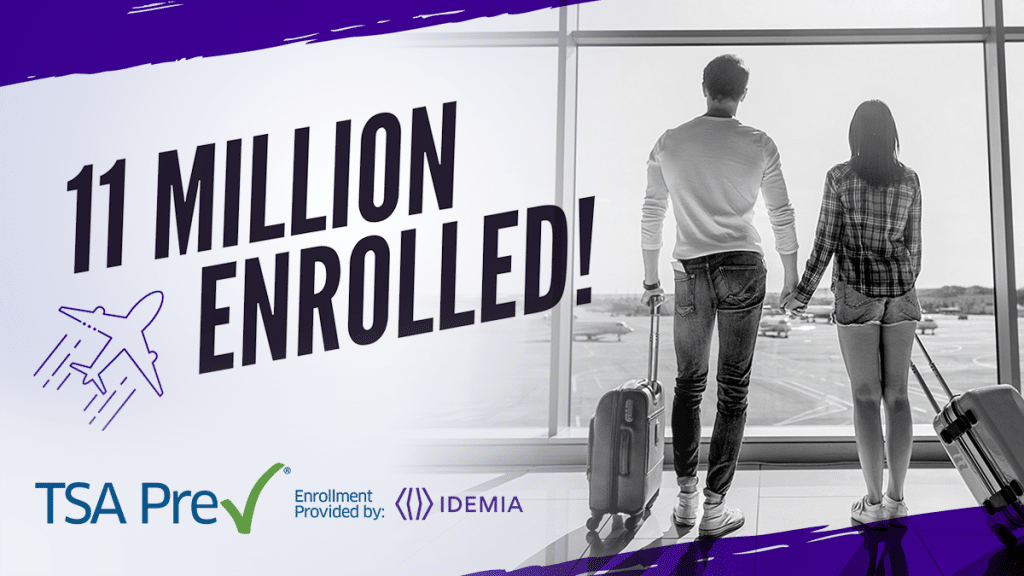 Reston, Va., July 8th, 2021 – IDEMIA announced it has reached a new TSA PreCheck® Application Program milestone with 11 million enrollments to date. The enrollment process utilizes IDEMIA's digital solutions to enable TSA to identify low-risk air travelers who then enjoy a smoother screening process at the airport.
To support the notable growth of TSA PreCheck enrollment and help ease travel during the busy summer period, IDEMIA has more than 440 enrollment centers in neighborhoods and airports throughout the United States and is hosting pop-up enrollment events to facilitate a more convenient traveler registration opportunity for residents.
TSA PreCheck lane wait times are on average five minutes or less and there is no need to remove shoes, belts, 3-1-1 liquids, food or light jackets. Children 12 and under can also join a parent/guardian in the dedicated lanes. Today, TSA PreCheck has more than 450 lanes at 200+ U.S. airports, offering travelers a stress-less and secure flying experience as they begin to return to pre-pandemic traveling. 
Submit an online application and schedule an appointment at any of the enrollment centers or at a local pop-up event to enjoy the benefits of TSA PreCheck and take the hassle out of your future travel plans. Complete application to enroll here.